The Post Offices
There were several locations of the post offices in Clermont from the beginning around the turn of the century until 1971 when the post office was closed permanently. There were also several postmasters. The first location was in Buttís store and the postmaster was W. E. Butts. The store is shown here: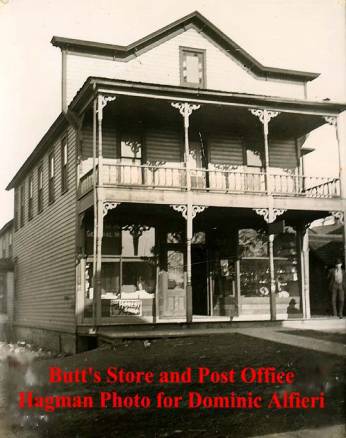 The next location was in the basement of Clermont Hotel later known as Petersonís store, which can b
e seen here: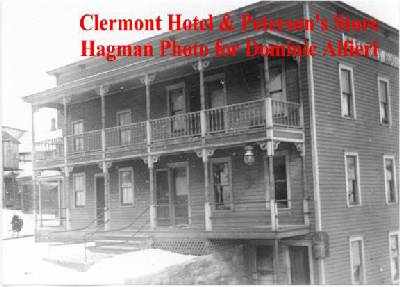 The Post Office was located in the lower right basement in Petersonís store as seen here:

The next location for the Post Office was in the basement of the house south of Erlandson's store. During the late 1930's and early 1940's Ben Hagman would pick up the mail at the Shawmut Railroad station and haul it to the Post Office in his wheelbarrow. For a few years after that Ed Yoder would pick up the mail at Marvindale and deliver it to the Post Office. In the final years a truck from Mt Jewett delivered the mail to the Post Office. Other Postmasters to serve the Clermont Post office were Harry Hafner and Frank Smith. Margaret Burmingham also worked in the office at one time.
Albert and Edith Anderson to serve as a Post Office built the next building shown here. It served as the Clermont Post office until 1971 when the Clermont office was closed and rural delivery from Mt Jewett was started. Edith was the Post Mistress and served until 1965.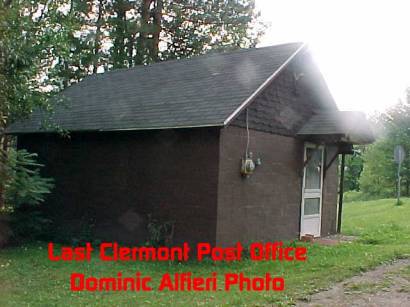 Edith Anderson served as Postmistress for many years. In fact she ran the Post office for the longest period of years. Here is a photo of Edith and her husband Albert.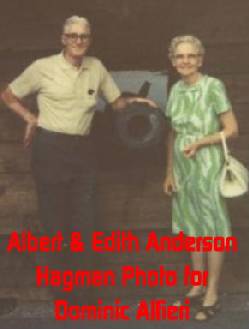 Edith finally retired in 1965 and Elaweese Himes took over and continued until the Post Office was closed in 1971.