The Erlandson Farm
The John Erlandson farm was located north of Clermont. In fact at one time there was a dirt road that ran from the center of Clermont across the hill to the farm. On top of the hill overlooking both the farm and the village was the baseball field. Several baseball teams that represented Clermont at various times over the years used this field.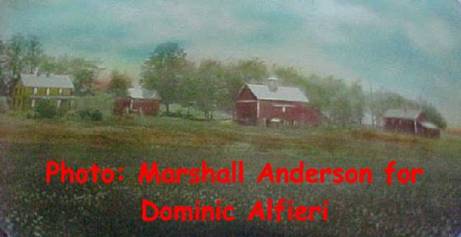 Photo of Erlandson Farm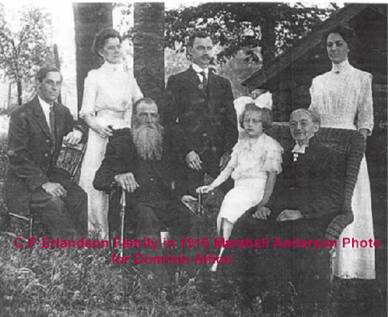 This is a Photo of the Erlandson Family taken in 1916. Seated in the front are: Carl P. Erlandson, Eileen Anderson and Elin(Andersdotter) Erlandson.

In the second row are: John Erlandson(Peanut), Alma(Erlandson) Anderson, Emil Erlandson( Butch) and Jennie R. Erlandson.

After the death of Carl P. Erlandson the farm was taken over by his son John. The farm was a supplier of meat, vegetables, and meat for the general store run by Emil Erlandson. In addition ice was obtained from the pond, stored under sawdust in an underground cellar, and furnished ice to the store. Peanut also sold ice to the families that had iceboxes in their homes. Below is a picture of one of the baseball teams that played on the Clermont field at one time.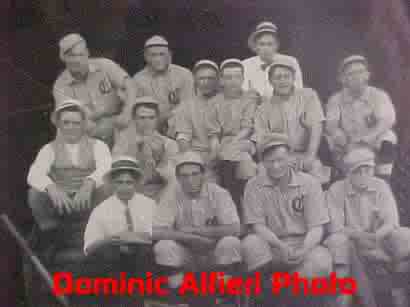 Pictured from left to right are: Tony Rizzo, Mose Brown, Bernard (Buster) Amend, and Hugh Keating. middle row: John Moyer, Carl Decker, Gerald Mumford, Jack Allison, and Harry Silfies. Back row: Artie Jacobson, Chris Labor, Bill Allison and Homer Perry.
The Erlandson farm operated until the death of John (Peanut) Erlandson in 1955. A year or two later Annie the widow of John sold the farm to a man named Clark from Smethport.